PVC leather havanna (with viscose)
SKU:
100126
Unit:
meter
Qty:
3.9
The minimum amount for purchase is 0.1 meter. Fabric is 
sold in 10 cm increments. For example, enter 0.1, 0.2, 0.3 etc. 
into the "Enter quantity" field.
Composition: 50% polyurethane, 44% viscose, 6% polyester
Width: 132cm, Weight: 415g/m²
Soft PVC leather is suitable for making skirts, dresses, pants or jackets.
Fabric care: no machine wash, no bleaching, no tumble drying, no ironing, dry-cleaning allwed.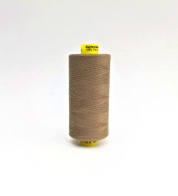 Thread 120
Length 1000m
100% polyester
Made in Germany
SKU:
160 ,
Qty:
6 ,
Thickness:
,
Quantity:
2,30 €