Merino wool interlock black (220g)
SKU:
100140
Qty:
0.65
The minimum amount for purchase is 0.1 meter. Fabric is 
sold in 10 cm increments. For example, enter 0.1, 0.2, 0.3 etc. 
into the "Enter quantity" field.
Composition: 100% merino wool
Width: 125 cm, weight: 220 g / m2
Superwash
The merino wool interlock is the same on both sides of the fabric and is not rough against the body. Suitable for application as both the first and second layer and for making BABY CLOTHES. It is mostly used for sewing warm underwear, hats, scarves or the linings of the latter.
OEKO-TEX® certified by the manufacturer
Textile care: Machine wash at 30 ° C with a special wool program and it is recommended to use a wool detergent, ironing at low temperatures (.) Up to 110 ° C if necessary. Dry cleaning in gentle mode. Bleaching and tumble drying are prohibited. Shrinkage during washing 3-5%.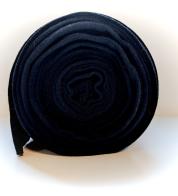 Composition: 100% merino wool
Width: 22 cm * 2 (44 cm), weight: 180 g / m2
SKU:
100142 ,
Qty:
3.3 ,
Thickness:
,
Quantity:
9,00 €